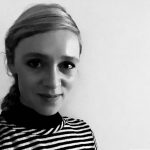 University Assistant M.Eng.
Phone:  +43-1-58801-12666
E-Mail: andrea.binn@geo.tuwien.ac.at
Andrea Binn is a researcher and lecturer at the Research Unit Cartography. She received her BA Degree in Cartography and Geomedia and a Master's Degree (M.Eng.) in Geomatics from the Munich University of Applied Sciences in 2015. As a freelance Cartographer, Andrea developed spatial-visual concepts and designs in the fields of Environmental Science, Music, and Psychology. In her research, she works on the effects of emotion on spatial-visual information processing.
Research interests
Emotion and cognition, visual communication of climate change and natural hazard risks, cartographic art and design.
Teaching
VU 120.119 — Spatial Visualization
VU 127.026 — Applied Cartography
VU 127.107 — Applied Cartography and GIS

VU 120.106 —

Geodetic and Cartographic Fundaments for Spatial Planning
Projects at the Research Unit Cartography
EU-funded Erasmus+ projects:
Shape2Gether – Shaping innovations in education for sustainable development: contextualizing geosciences, new technologies, and serious games with climate change (2023-2026)
LBS2ITS – Curricula Enrichment delivered through the Application of Location-based Services to Intelligent Transport Systems (2021-2024)
DigiGeo – Transferring contact, technology- and field-based education to digital: methods and tools for geosciences training (2021-2023)