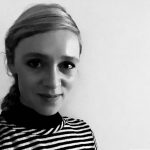 University Assistant M.Eng.
Phone:  +43-1-58801-12666
E-Mail: andrea.binn@geo.tuwien.ac.at
Andrea Binn is a researcher and lecturer at the Research Division Cartography. She received her BA Degree in Cartography and Geomedia and a Master's Degree (M.Eng.) in Geomatics from the Munich University of Applied Sciences in 2015. As a freelance Cartographer, Andrea developed spatio-visual concepts and designs in the fields of Environmental Science, Music, and Psychology. In her research, she works on the effects of emotional valence on spatial cognition.
Research interests
Cartographic communication and design, valence and spatial cognition, visual risk communication
Teaching
VU 127.026 — Applied Cartography
VU 127.107 — Applied Cartography and GIS
VU 120.119 — Spatial Visualization

VU 120.106 —

Geodetic and Cartographic Fundaments for Spatial Planning

PR 120.001 —

Integrative Project
Projects at the Research Unit Cartography
DigiGeo – Transferring contact, technology- and field-based education to digital: methods and tools for geosciences training
LBS2ITS – Curricula Enrichment delivered through the Application of Location-based Services to Intelligent Transport Systems