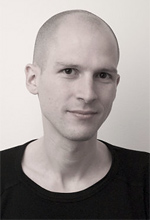 University Assistant Dipl.-Ing.
Phone:  +43-1-58801-12614
E-Mail: florian.ledermann@tuwien.ac.at
Florian Ledermann is a researcher and lecturer at the Research Group Cartography. He received his Dipl.-Ing. (MSc.) Degree from Vienna University of Technology in 2004 and has previous research experience in the fields of augmented reality and information visualization. As a freelance web developer, Florian implemented award-winning web applications for several institutions and projects before joining the Research Group Cartography in 2014.
Publications
My Publications in the TU Wien publications database
Awards
Projects at the Research Group Cartography
Research interests
Interactive cartography, web cartography, information visualization, usability & user experience
Teaching