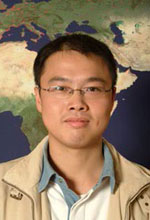 University Assistant Dr. techn.
Phone:  +43-1-58801-12616
E-mail: haosheng.huang@tuwien.ac.at
Website: geo.uzh.ch/~hhuang
Huang Haosheng (born 1983, Guangdong Prov., China) was a researcher at the Research Group Cartography. His background is in Computer Science and GIScience. He started to work for Research Group Cartography in October 2007. Before coming to Vienna, he studied Computer Science in South China Normal University, Guangzhou, China.
He started a new job at University of Zurich on July 2016.
Research interests
Location Based Services and Context-aware Recommendations
Wayfinding and Spatial Cognition
Crowdsourcing, VGI and Social media analysis

Web Mapping