We are happy to host a CartoTalk by our former colleague Prof. Haosheng Huang, Professor of Cartography and GIScience at Ghent University, Belgium. He will be presenting: GeoAI for Mobility Analytics and Prediction.
Thursday, 27.04. 2023, 16:00-17:30
Seminarroom 126, Erzherzog-Johann-Platz 1/120-6, 1040 Wien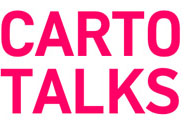 Abstract:
Incorporating geographic knowledge or concepts into machine learning (ML) might help to reduce the required amount of training data and improve the performance and explainability of ML models. A research theme is currently emerging in GIScience and Cartography regarding the development of geospatial artificial intelligence (GeoAI) techniques for geographic knowledge discovery. This presentation will give a summary of our recent research activities in this domain, with a focus on applications in mobility analytics and prediction.

Haosheng Huang is a Professor in Cartography and GIScience at Ghent University, Belgium. He was previously a senior lecturer and research group leader (2016-2020) at the GIScience Center at the University of Zurich, Switzerland; a researcher and lecturer (2007-2016) at the Research Group Cartography, TU Wien, Austria; and a visiting scholar (2010) at the University of California, Santa Barbara, USA. Haosheng Huang received his Ph.D. (with Distinction/Honours) in Cartography and Geoinformation from TU Wien in 2013.
Read more ..
Haosheng Huang is currently the Chair of the ICA Commission on Location-Based Services (Since 2015). He is Associate Editor of the Journal of Location Based Services (Taylor & Francis) and Journal of Maps (Taylor & Francis) and serves as an editorial board member and guest editor at several international journals.
Haosheng Huang's research interests lie in Cartography and GIScience, particularly on LBS, mobile cartography, spatial cognition, urban informatics, and GeoAI. He has (co-)authored more than 70 refereed research papers published in journals and conference proceedings and has edited 12 books and conference proceedings. He has also been invited as a keynote speaker at several conferences, workshops, and universities. For more details, visit https://users.ugent.be/~haohuang/.