Thank you for participating in LBS 2019, the 15th Conference on Location-Based Services!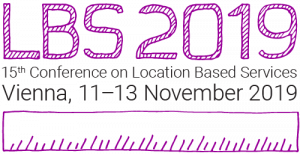 From 11 to 13 November 2019, the conference was once again organized by the ICA Commission on Location-Based Services and the Research Division Cartography, taking place at TU Wien. After its initiation at TU Vienna in 2002, the conference traveled around the world – with venues in Austria, Switzerland, China, Germany, and the United Kingdom.
This year we were again privileged to host more than 90 participants from 24 countries, contributing to the conference with high-quality presentations and inspiring discussions. All proceedings are open access and can be found here.
More photos of the event can be found here.
Thanks to all participants and you for making the conference such a memorable event again!