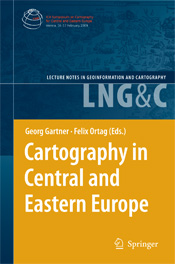 The book is part of the series "Lecture Notes in Geoinformation and Cartography" published by Springer. It contains selected papers of the symposium "Cartography in Central and Eastern Europe 2009" which was organized by Research Group Cartography together with the International Cartographic Association in February 2009.
More info:
Symposium website
Springer's flyer for this book [1.3 MB, PDF] Springer's website for this book
Look inside at Google Book Search
This post was automatically fetched from geo.tuwien.ac.at. Please find the original here.