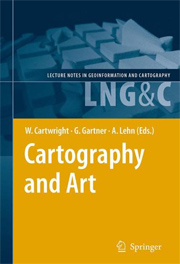 The book is part of the series "Lecture Notes in Geoinformation and Cartography" published by Springer. It contains selected papers of the symposium "Cartography and Art – Art and Cartography" which was organized by Research Group Cartography together with Academy of Fine Arts Vienna in February 2008.
More info:
Symposium website
Springer's folder for this book [1.2 MB, PDF] Springer's website for this book
Look inside at Google Book Search
This post was automatically fetched from geo.tuwien.ac.at. Please find the original here.