Seit Sommer 2013 arbeitet unsere Forschungsgruppe an dem Projekt genderATlas – einem interaktiven Onlineatlas zur Visualisierung geschlechterdifferenzierter Daten für Österreich. Am 22. Oktober fand die Fachtagung "Warum Gleichstellungspolitik einen genderATlas braucht" statt, in deren Rahmen der finale Prototyp des genderATlas veröffentlicht wurde.
In derzeit 13 Karten werden verschiedene Themen aus den Bereichen Arbeit, Bildung, Mobilität, Politik und Gesellschaft aufbereitet, darunter beispielsweise …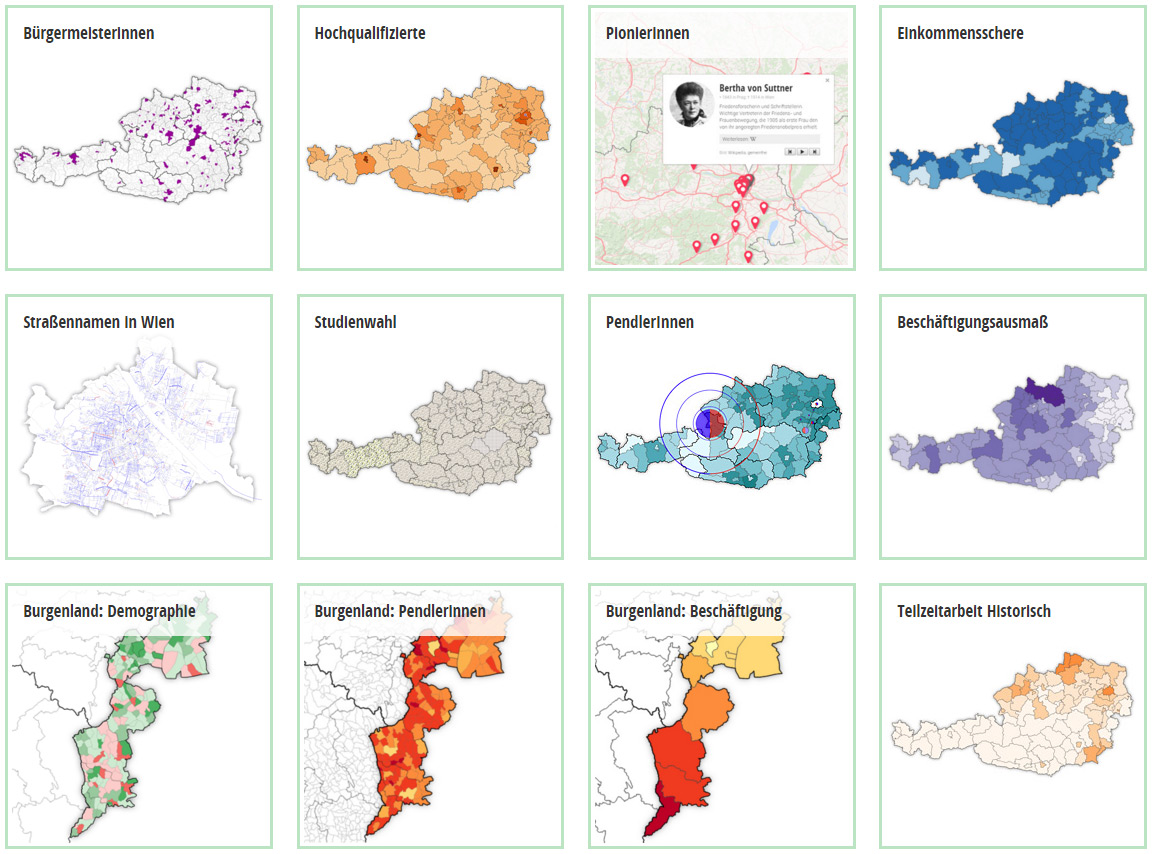 Federführend für die technische Umsetzung des genderATlas war Florian Ledermann. Die im Rahmen des Projekts entwickelte API mapmap.js wurde auf der International Cartographic Conference in Rio im Sommer diesen Jahres vorgestellt [Paper].
genderATlas ist eine Kooperation der Forschungsgruppe Kartographie der TU Wien (Projektleitung, technisch-kartographische Umsetzung) mit dem Institut für Geographie und Regionalforschung der Universität Wien (Inhaltliche Aufbereitung und Evaluierung) und der ÖIR Projekthaus GmbH (Datenpool und Betriebskonzept). Das Projekt wurde im Rahmen der Programmlinie FEMtech Forschungsprojekte des BMVIT gefördert.
Wir freuen uns über das enorme Medienecho, u.a. von ORF Science, ö1 Mittagsjournal, Kurier und dieStandard.
Summary: Over the last two years, the Research Group Cartography worked on project genderATlas – an online atlas of Austria that visualizes data about the life situations of women and men in their regional distribution in an innovative and easily accessible way. The final prototype was published on October 22 at genderatlas.at (German only).