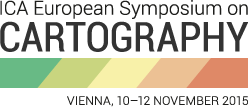 Next week will be a very busy week for our Research Group: We will host the 1st ICA European Symposium on Cartography (EuroCarto). From Tuesday to Thursday participants can expect a dense program of cartographic input. Feel free to scroll through the program on eurocarto.org.
Just before the conference, a meeting of representatives of the International Cartographic Association (ICA) will take place at TU Wien. All ICA commission chairs are invited to join and plan their activities for the next years. This will also include a meeting of the Working Group on the International Map Year (IMY).
On Wednesday, the consortium of the Cartography M.Sc. programme will meet to discuss the future of the Erasmus+ Erasmus Mundus Joint Master Degree.