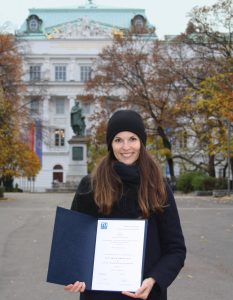 We are proud to announce that Silvia Klettner's research on cartographic semiotics received TU Wien's Best Paper Award 2019 from the Faculty of Mathematics and Geoinformation:
Klettner, S. (2019). Why Shape Matters — On the Inherent Qualities of Geometric Shapes for Cartographic Representations. ISPRS International Journal of Geo-Information, 8(5), 217.
"Visual communication requires deliberate choices to share and express information successfully. It is, therefore, inevitable to understand the inherent qualities of visual signs and symbols. Yet, while research suggests a great influence of cartographic design decisions on human responses, it remains unclear, why some map symbols emerge as more effective in conveying particular information than others. The present research, therefore, unraveled some of the subtle communication effects of shape symbols, in particular encompassing the concept of similarity. By identifying similarities, cognitive structures were disclosed. This research further identified strategies and processes underlying these similarity judgments. The proximity space uncovered, together with a more differentiated understanding of underlying processes, aims to advance our understanding of visual communication and enable us to more effectively create and communicate information in visual disciplines."
We congratulate Silvia for her outstanding research!